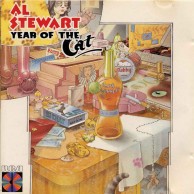 C'était en 1976…
C'était en 1976…
(…)
L'été 76.
La canicule.
L'invasion de millions de coccinelles sur les tentes à la plage (pour ceux qui ne me croient pas…)
Je jouais au tennis avec un bob blanc et un bandana mouillé autour du cou ; bandana qu'il fallait retourner humecter toutes les dix minutes aux vestiaires…
Mais qui se souvient encore d'Al Stewart (65 ans aujourd'hui) et de son année du chat (Year of the Cat) ?